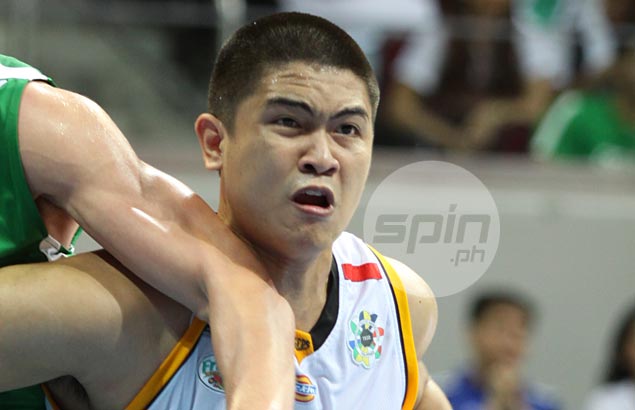 Melo Afuang's mom's actions on Roider Cabrera reminded me of my mom.
While everyone was anticipating the
UAAP Board's decision regarding the controversial FEU-NU game
, there was another matter that was actually tackled. In another game between Adamson and UST won by the Growling Tigers, the mother of UST's Melo Afuang did not like how Adamson's Roider Cabrera played roughly against her son. Mrs. Afuang, presumably sitting at the back of Adamson's bench, reportedly hit Cabrera at the head after Coach Leo Austria decided to give Cabrera a rest. The board decided to ban the lady from attending the rest of her son's games.
That was not the only time this year that the parents of a player got disgusted during a college basketball game. In the NCAA, former Alaska Aces head coach Joel Banal reportedly exchanged words at San Sebastian's Calvin Abueva during the Golden Stags' game against the Mapua Cardinals, where Banal's son Gab and nephew Tan-Tan are playing. Ironically, Abueva was drafted 2nd overall by the Aces in the recently concluded PBA Draft.
Just recently, the dad of Ateneo's Nico Salva got into a verbal tussle with FEU Tamaraws assistant coach Ronald Magtulis because of Tamaraw Arvie Bringas' unsportsmanlike foul during their game against UP. Bringas did an even nastier act against the Blue Eagles, including spitting on Justin Chua. The UAAP Board gave Bringas a one-game suspension, while the school board added another single-game ban on him. As a result of his manners against UP, however, Bringas was slapped with another 2-game suspension.
I learned one thing from these incidents. There is a huge difference between a regular fan and a parent. For a regular fan, whether he's a loyal supporter or just a bandwagon member, he will just let things go if there's something unpleasant to his favorite athlete. But being a parent goes way beyond that. Even if you don't support the team his son is playing for, he would still come to the stadium to support his son.
I don't blame Mrs. Afuang, Mr. Salva, or Coach Joel for being involved in such altercations. They are there to protect their sons' (and even their families') welfare. I respect them for loving their sons so much that they don't want their children to get hurt or get involved in heated scenarios.
I made this in time for my mom's birthday. I want to thank her for protecting me and providing for me even if she gets upset every time I ask for more. But most of all, I want to thank my Big Daddy, the Lord Jesus Christ, for everything. He will continue to give us the love that He already showed to us ever since. He provides for my mom, and He does the same to me too.
So how can we return the favor? The Lord instructed us, "Honor your father and your mother..." (Exodus 20:12a). What's so cool about this? It has a promise: "...that your days may be long upon the land that the Lord your God has given you." (Exodus 20:12b). So where to start? Paul said, "Children, obey your parents in the Lord..." (Ephesians 6:1a). However, if you think your parents are instructing you something that is not according to what God is saying to you, just say no and explain to them why their command is not right according to Him. I admit. There are times that I am not apprehending to my mom's commands, but I make up on that by thinking about her more and reflecting how to get it right. Like what my boy Alex
said in his blog
, we're still works in progress.
In the end, let's look back at how our parents protected us, provided for us, and everything else. And think on ways on how to get back at them.