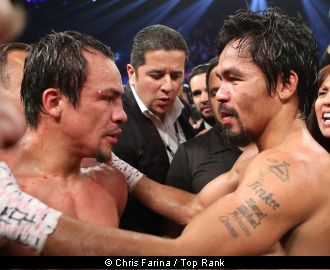 Manny Pacquiao may have lost to Juan Manuel Marquez, but he won a big-
ger fight--the battle against sin.
We all know what happened yesterday. Manny Pacquiao lost for the second straight time after succumbing to a right hook by Juan Manuel Marquez just before the end of the sixth round of their fourth meeting at Las Vegas. After being out cold for a minute or two, Manny stood up as if he's the winner and congratulated JuanMa. But I already expected a flux of tweets, Facebook wall posts, blog articles, etc. saying that Pacquiao's revitalized relationship with God is to blame for his two recent losses. What I can't believe is that even Dionesia Pacquiao blamed the pastors for "letting JuanMa put on a show". So is PacMan's revitalized relationship with God a factor behind his losses?
The question has slowly become how an athlete or sports analyst should ask the question "Can religion save us?" For a sports blogger, a basketball player, an "ultras guy" (Ask a soccer-crazy friend about this... Wait! Is it the right time to call myself that?) who miss playing soccer, sometimes an ultimate player, and most importantly a Christian for more than a decade now, I'm firm in saying that religion DOES NOT save us, but having God in your life as written in Acts 16:31. Now, to answer the sporty version of the controversial question, Manny Pacquiao's newly-refurbished relationship with the Lord HAS NOTHING TO DO with the losses. Winning and losing (and even settling a draw) a sporting event, whether it's boxing, basketball, soccer, or even a simple DOTA tournament nearby, is according to how the Lord wants it to happen. In winning, God is telling us that we succeeded because of Him. In losing and even in drawing the game, God is reminding us that we should leave everything to Him.
In fact, because Manny Pacquiao put his full faith to the Lord Jesus Christ, he won the biggest prize... Oh wait! It's not a prize, it's a gift from the Lord! That's eternal life. For me, seeing someone having a personal relationship with God is the biggest bacon ever. No championship is better than being saved from the bondage of sin and being with the Lord. Maybe Manny Pacquiao lost a fight, but he won the war! Hats off to you, Manny! May God bless you more!
A lesson learned after the fight: the Manny Pacquiao loss may have given us a crushed spirit, but we should still be joyful that there's more to come for Manny. Proverbs 17:22a (NIV) says, "A joyful heart is good medicine..."